Here's a few examples of the neat stuff we do at work when no one's watching...
A Macintosh-based Remote Monitoring System that provides digitized audio samples of what we sound like from almost anywhere in the world.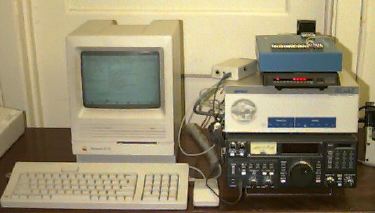 Click here -->

to listen to a 300K QuickTime sound sample of VOA's Korean service as heard in Seoul, Korea.
You'll hear a short excerpt of their popular English teaching series... I guess they're working on idioms today? (We call this cut "awl hell breaks woosh!")
Click here -->

- to hear another 300K example of jamming against VOA's Korean service as heard in Seoul, Korea.
VOA broadcasts in Korean and Mandarin (Chinese) are jammed. This is done to prevent or make it unpleasant for people in Korea and China to hear what VOA is broadcasting.
---
You can also find some current RMS sounds in my ftp area. They're saved as binhexed HyperCard sound resources. The best way to play them (on a Mac) is with a neat HyperCard stack also available. You can play the sounds and see signal level, audio level and nearby spectrum occupancy simultaneously! Way cool!
---
Here's some information on a cool Newton-based monitoring data entry system

---
And a few examples of some RealAudio. If you don't know what RealAudio is, check out RealAudio's HomePage. (Note: You'll need the RealAudio Player to listen to these sounds. Since you're not accessing a RealAudio server, these sounds will be downloaded and THEN played instead of the 'streaming' feature RA is noted for...but see how small the sound files are compared to 'normal' .au or .wav files.)

Radio Liberty Russian language broadcasts as heard in Beijing, China on 7230 kHz

VOA English as heard on 17820 kHz @ 2229 UTC on 7/6/95 in Beijing

VOA Chinese as heard on 7190 kHz @ 2307 UTC on 7/6/95 in Beijing (jammed)

VOA Chinese as heard on 11925 kHz on 7/6/95 in Beijing
---