---
Cut the crap, I came here to see the twins.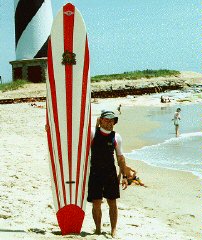 This is me and my new longboard in front of the Hatteras lighthouse. It's a 10'0" custom from Country Surfboards in Haleiwa, Hawaii.

---

Last attempt at construction was Friday, 07-Feb-2020 13:14:24 EST
This page has been accessed 32860 times...Please come back again and again so this number will go up!
Want to send me mail? Go ahead!
Q Links
---
---
Many thanks to Heller Information Services for the server space, and support.
All my pages are optimized for HTML 3.0 and Netscape 1.2+