Welcome Jocelyn Dori Merkin!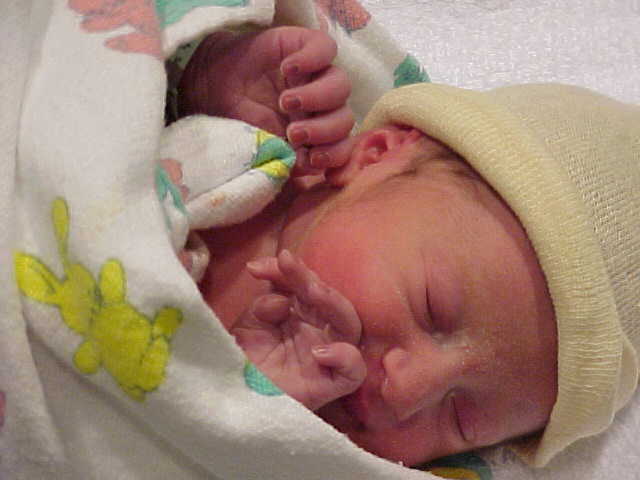 Today we put our hands together for a big Earth-wide welcome for humanity's newest sister, Jocelyn Dori Merkin, who was born at 3:01 pm (EDT) on July 11, 1999, to Lisa Shapero and David Charles Merkin. Jocelyn weighs 6 lbs., 4 oz. and is 19 inches long. (Nice work, kids.)
Pictures with the beaming grandparents will follow as soon as they figure out how to use this %v@& camera.
Jocelyn

paying no attention to

Dad

.

Jocelyn

paying no attention to

Mom

.

Jocelyn

doting on

Grandpa Al

.

Jocelyn

, now seven weeks old and happy as can be, with

Grandma Linda

.
Well? Do you like the hat? I like the hat. I think it's me!
Got it? The big, tall one's mine. You can have the skinny, goofy-looking guy.

Mommy

, I have so many questions. Like, what happened to your big toes?
... and, if it's

Daddy

's birthday, how come I get the stuffed dog?
Are you certain this guy won't drop me?
Those are my big cousins there with

Mommy

and

Daddy

.
It's nice when

Daddy

holds me.
Now this is how to celebrate a birthday!
One year old,

Mommy

. Can you believe it?
I'm outta here.
 
Maury R. Merkin
Last modified: Mon Aug 23 19:17:14 EDT 2004