"'Tis a most marvelous day," sang the elephants.
"Jackie Lane at last is here."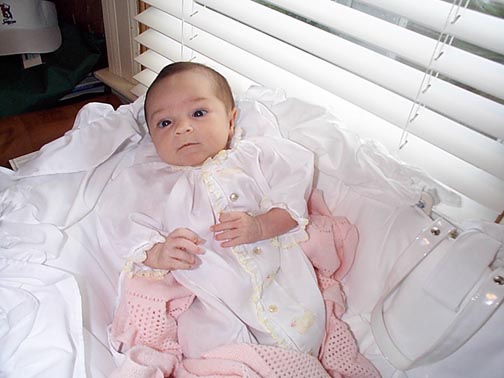 At 3:37 this morning (September 15, 1998), my daughter Jill and my son-in-law Billy presented me with my first grandchild, Lane.
(More formally: Jacqueline Lane McGriff.)
Lane

on day 1.

Lane's

first day home!
Can you believe it? Already one month old!

Nellie

and her new playmate.
Now six months old and gettin' sooooo big.
Clean (as a whistle) at nine months.
With

Grandpa Maury

,

Uncle David

(the Yankee) and

Cousin Jocelyn

.
"Now look here! This is gonna be done my way or not at all."
"

Mommy

, are those yams? Put me down so I can get at those yams."
"Look,

Daddy

! What a beautiful fence."
"Okay,

Uncle David

. You can let go any time now."
Maury Merkin
Last modified: Mon Aug 23 19:13:26 EDT 2004