5 The 42' Trawler
The Krogen 42 underway:
5.1 Technical Description and Features

Full-displacement, full-keel hull.

LOA..............................42'-4"
LWL..............................39'-2"
Beam.............................15'
Beam (over rub rails)............15'-8""
Draft.............................4'-7"
Displacement (half load).......39,500 lbs
Fuel..............................700 gals
Water.............................360 gals
Ballast.........................2,500 lbs
Approx. Range: 8 kts............2,150 nm
               7 kts............3,200 nm
               6 kts............5,000 nm
Bridge clearance (Mast up).......22'-9"
Bridge clearance (mast down).....14'-0"
Gross tonnage....................32.9
Net tonnage......................26.3
Engine room volume.............550 cu. ft (54" headroom)
Engine.......................120-135 hp Diesel
               (normally aspirated Ford-Lehman on the older boats)

Hydrostatic data:

Displ/length ratio (D/L)........294
A/B ratio.......................2.2
Prismatic coef. (PC)............0.60
Lbs/inch immersion..............2,000 lbs/in
Moment to trim one inch.........4,250 ft-lbs
L.C.B...........................51% aft
L.C.F...........................56% aft

Stability:

GM (approx).....................3.9 ft
Range of positive stability.....85 degrees


Here's the photo of the late-model Krogen 42:






And a nice line drawing done for us by Wil Andrews.  Send him some email to 
captnwil@coastalnet.com if you're interested in the CAD file that generated it.
(Don't forget to tell him how "neat" it looks here!)  You can use it to create a 
GREAT logo for your stationery!







Construction (Late-model production):

Solid, hand-laid PPG Combo mat fiberglass below the waterline (early boats had PVC foam below the water line). Closed cell PVC sandwich core used in topsides and superstructure. End-grain balsa-cored pilot house and boat deck. Vinylester resin used in first two laminates below the waterline (not used on the older boats). Exterior finish US Ferro gelcoat. 3M 5200 sealants used at hull-to-deck and boat-deck joints. Marine-grade plywood bulkheads with mahogany stringers and frames.

This is FEMME FATALLE, a 1981 Krogen 42 - taken off her port quarter:

5.2 Production History and Variations
Initially produced in 1979 (or possibly as early as 1977).  Although the company
says they're no longer producing the 42 as of late 1997, they might just make
one or two more on special order, we've heard.  (Hull # 205 will be a '98 model.)  
Here's the approximate number of boats built by year.

                            Year(s)     Approx #
                                         Built

                            77-79       8 to 9
                             80            8
                            81-82         14
                             83        14 to 18
                             84        16 to 18
                             85        20 to 26
                             86           24
                             87           26
                             88           11
                             89            3
                             90         2 to 5
                             91         3 to 7
                             92         2 to 5
                             93         2 to 5
                             94         2 to 5
                             95         2 to 6
                             96         2 to 5
                             97         3 to 6
                             98         2 to 3

Obviously most were built between 83 and 88.

On the first few boats the boat deck did not completely cover the after cockpit.

Switched from 120 Ford-Lehman to 135SP Ford-Lehman at hull # ____ in 
1985.

Switched from 135SP Ford-Lehman to various others, including American 
Diesel 135, Perkins 130, (Sabre 135?) at hull # ____ in 199__, when 
Lehman stopped producing them.

Introduced molded headliners at hull # 66 in 1984.

Switched from coated-cable lifelines at bow to teak handrails at hull # 
66 in 1984.  Switched from teak handrails at bow to stainless steel at 
hull # _____ in 198__.

Switched to solid fiberglass below the waterline from PVC foam core at 
hull # ___ in 19(93?).

Additional construction history information from Kadey-Krogen Yachts:

Hulls 1 through 6:

Hull:             Fiberglass sandwich construction, PVC core - gelcoat 
                  finish

Main deck:
(fore deck, alleyways,
 aft deck)        Wood deck beams, plywood, fiberglass and teak.
Boat deck:        Fiberglass sandwich with plywood squares 4" x 4" core
                  with teak over, wood overhead beams, painted with teak 
                  cap on interior, peg board and later fiberglass sheets 
                  on exterior overhead.

Pilothouse:       Same as boat deck, but no teak
Deck house side:  Plywood, glass covered

Hulls 7 through 65:

Hull:             Fiberglass sandwich construction, PVC core (gelcoat 
                  finish)

Main deck:        Wood deck beams, plywood, fiberglass and teak.
Boat deck:        Fiberglass sandwich with plywood squares 4" x 4" core,
                  wood overhead beams, painted with teak cap on interior,
                  peg board and later fiberglass sheets on exterior overhead
                  

Pilothouse top:   Same as boat deck
Deck house side:  Single laminate, fiberglass with wood stiffeners glassed to 
                  inside

                  Superstructure and deck were all painted with PU paint

Hulls 66 to hull #___ in 19__:

Hull:             Fiberglass sandwich construction, PVC core (more recently 
                  solid fiberglass below the waterline and foam core above).

Main deck:        Fiberglass sandwich with plywood squares as core Ð interior 
                  fiberglass overhead liners throughout
Boat deck &:
Pilothouse:       Balsa core, fiberglass sandwich with balsa core

House sides:      Fiberglass sandwich with PVC core

                  Chien Hwa used plywood squares in boat deck on last few 
                  boats built (150's), without KKY knowledge

                  Now foredeck is balsa core. (from hull # 165)

Most 42s have two heads, with the forward (owner's) stateroom having a double berth, offset to starboard. A number have a single head with a larger forward stateroom with centerline queen berth. Some have two single bunk beds on the starboard side forward. At least seven have the owner's stateroom in the mid-section, with a circular staircase up to the Pilot House. The wide-body variation, initially produced in 1989, has its salon built all the way to the port gunwale with the starboard side deck as on the others.
Some interior shots of the Krogen 42 (galley, forward stateroom, and pilot house):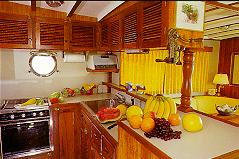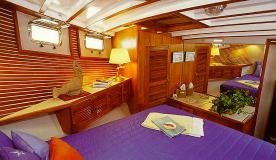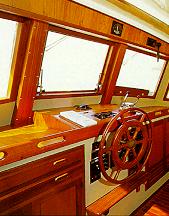 5.3 Operating Characteristics and Discussion
Cruising speed with the 135SP Lehman is 7.5 to 8.0 knots. Range at these speeds is 2,200 to 2,800 nm. Soft chines and high deadrise give an easy, rolling motion, even with following seas. This is in marked contrast to the many semi-displacement "trawlers" of similar size with broad, flat transoms and flat bottoms near the stern, which reportedly have a harsher, jerky motion. At least two west-coast boats are reported to have been modified to carry flopperstoppers built according to a design by Jim Krogen. One boat with this design has been spotted on the East Coast, as well.
Most of the 42s are used as coastal cruisers, including the Bahamas and the Gulf of Mexico, although one 42, CARPE DIEM, has made the trip from Chesapeake Bay through the Bahamas to the Virgin Islands, the Windward Islands, and on to the coast of Venezuela. From there the trip took them to the Panama Canal, up the coast of Mexico, and on to California and Seattle. Several are reported to make the trip from Baja California to Alaska several times a year. Another has reportedly made passages direct from Tortola, BVI, to Norfolk. Yet another 42, SAGE (hull #26), (more recently called YARINEL) went from Lake Superior in late 80's down to Venezuela and returned. Another 42, HELEN M, reported she made an "uneventful" 4-day crosing from Galveston, TX, to Isla Mujeres, Mexico (690 miles). Her favorite places on the cruise included Rio Dolce and Guatemala. The return trip was from Isla Mujeres to Fort Myers, FL (430 miles). The boat is clearly capable of making offshore passages, although prudent skippers will take care, of course, to prepare any boat properly for these voyages -- covering the windows with Lexan plates and considering the addition of anti-roll systems, either active or passive. (Plans are available from the builder for adding paravane-type flopperstoppers.)
Visibility from the flying bridge is excellent, especially in tight docking situations. Although the stern cannot be seen directly from this position, the fact that the stern lies directly beneath the edge of the upper deck makes judging close situations easy. Many boats have been equipped with large biminis, and their crews often spend most of their time underway and at anchor on the upper deck.
The upper deck carries up to an 11' dinghy easily. Depending on the exact configuration, it may be possible to carry a slightly larger one. The hoisting boom is reportedly stressed to lift up to 500 pounds, although either an upgraded tackle and/or electric or large manual winch would be required.
A number of the boats have bow thrusters, and although these provide some finesse in docking, in strong cross-winds and/or current they are no substitute for single-engine boat-handling skills! Coming from sailboats (as many other Krogen owners do), I find the Krogen 42 considerably easier to back down straight in tight situations than fin-keel sailboats. On the other hand, due to the full keel, doing a "360" in tight quarters is more difficult until you learn the "art of goosing" as described in Section 9.5 of this FAQ.
The raised pilot house is a prominent feature of the boat, providing a completely separate helm station which permits all activities to continue in the salon, galley, etc., even at night without disturbing the safe operation of the boat. A pilot berth (which converts to a double at anchor) just aft of the helmsperson is an excellent place for the off-watch crew in a shorthanded passage to catch forty winks while being immediately available to render assistance if needed.
The covered afterdeck (often called a cockpit) is also a key feature, providing, in effect, a lovely sitting porch in warm weather, rain or shine. Many live-aboards have enclosed this deck with doors leading forward to the side decks and clear plastic side curtains. This provides an extra room in cooler weather and in inclement weather dockside, when the wind won't be coming over the bow as at anchor.
It is an excellent live-aboard boat, used for this purpose by roughly 25% of the owners. The foam-filled hull provides good insulation from the cold water in winter. The combination of cored hull and absence of spray rails (common on faster boats) makes the forward stateroom VERY quiet at anchor when the waves start "kicking up."
The engine room provides a large space that is more than adequate for maintenance of ship's systems and it has plenty of room for gensets, refrigeration, air conditioning, watermakers, etc. Those of us who came to trawlers from sailboats may have thought of these items as luxuries for years. However, it is remarkable to read the experiences of serious full-time cruisers who eventually want to add all or most of these items eventually. It is certainly pleasant to have the room to comfortably install and maintain these systems.
Approximate price range of used boats: $150K to $585K