la | g a l e r i e | d e | l j l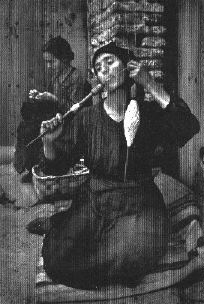 The Spanish woman is transferring yarn from one hooked high-whorl spindle to another as she smoothes and re-spins it. This photograph was taken by Eugene Smith in 1950.
---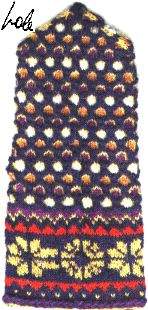 After completing the tam, I decided that it needed a pair of mittens to go along with. While browsing through my Knitters Magazine collection, I came across a pattern for a Latvian stained glass mitten, designed by Lizbeth Upitis. I adapted some of the colors to match those of the tam.
---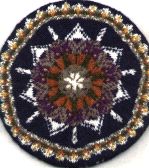 My first Fair Isle project was adapted from a pattern created by Mary Rowe in Vogue Knitting Magazine, Winter Special 1990-91. The original color shade was based on green, but I only had shetland yarn from a sales bin to work with. With help from the ladies at Yarns International, I was able to come up with this color combination.
---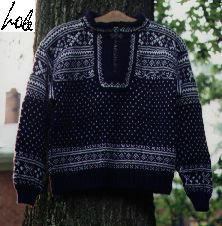 About a year after I started knitting, I felt ready enough to attempt a full-size, two-color project. So I signed up for a Norwegian sweater class. I fully expected to finish the sweater by the end of the class sessions. Boy, was I wrong. First . . . I aimed for Christmas, and had to rip back quite a bit because I made mistakes. Then came New Years, and I was still knitting. As the countdown started for the Winter Olympics 1994 in Norway began, I expected to be wearing the sweater by then. As I was watching the various sports events (and wishing I could be there so I could get a closer look a the sweaters the spectators were wearing), I was working on the sleeves. It was only three days after the Olympicss were completed that I finally got to wear this sweater.
---
Of course, I have more to show, but first I need to get this old, old page updated . . .
---