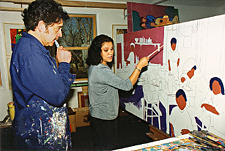 The Lodo Mural Project

This exhibit is part of a larger public program that takes place at 16 Market Street, in downtown Denver, Colorado. Across from a central bus station, along a busy corridor in an area known as LoDo, or Lower Downtown, a 250 foot long mural introduces passers-by to some of the many women who have contributed to Colorado history.

Some of these women are well known, like Margaret "Molly" Brown. Others are anonymous, like the many young women who taught the children of farmers to read in one-room schoolhouses during the early days of the frontier. All of them have helped shape the world in which we live.

Click on any figure to learn more about a Colorado woman who helped to shape the American West.