Virginia Donaghe McClurg (1857-1931)

By the end of the nineteenth century, the Colorado landscape, which attracted thousands of miners to its rich mineral deposits, came to be viewed in a different light. Virginia McClurg was one of the first to foster an appreciation for the landscape's aesthetic and historical importance.

Raised in New York City and educated in Virginia, McClurg became a well-known writer and traveled west in 1877, to improve her health. McClurg's acceptance of a writing assignment for the New York Daily Graphic resulted in her becoming one of the first white women to view the prehistoric cliff dwellings near Mesa Verde. This experience transformed McClurg and began her lifelong interest in preserving Colorado's Native American sites.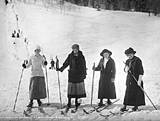 McClurg lectured widely on the ruins and gained support from the 5,000 member Colorado State Federation of Women's Clubs which created the Colorado Cliff Dwellings Association (CCDA). Unfortunately, infighting between McClurg, the CCDA's regent for over thirty years, and her vice-regent, Lucy Peabody, nearly side-tracked her hard fought preservation efforts. A disagreement over whether Mesa Verde would be better served as a national park or a state park, under control of the CCDA, divided supporters. On June 29, 1906, Peabody prevailed, and Mesa Verde was officially designated a national park.

While McClurg lost the battle to keep control of the park in state hands, she succeeded in having the area preserved for future generations. Until her death in 1931, she continued to raise money to support restoration work in the park and to write about the beauty of Mesa Verde's landscape.