Michael Berman is a nationally recognized and collected artist who has been actively painting in Washington DC for over 12 years. He has a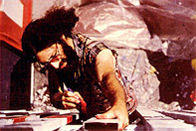 BFA from the University of Maryland, with an emphasis on painting and attended the Skowhegan School of Painting and Sculpture in Skowhegan, Maine. Currently he maintains a studio at
29 Kings Court
on Capitol Hill in Washington, DC. Michael regularly shows and sells his work at historic
Eastern Market
in Washington as well as exhibiting at other venues around DC and around the East Coast, including Baltimore, Philadelphia, New York City, Miami, Florida and Cambridge, on the Eastern Shore of Maryland.
Michael has been very active in preserving artists' studios in DC. He is President of the Downtown Artists Coalition (DAC), formed in order to preserve and foster artists' studio space in Washington. The DAC has been instrumental in re-establishing artists' spaces on the 900 block on F Street, as well as promoting live/work studios in the Historic Mather building on the 900 block of G Street and other areas in the traditional arts district of downtown DC. Michael is also an active member, and currently serving on the Board of Trustees, for the Committee of 100 on the Federal City, the oldest civic planning organization in DC. In addition to displaying artwork, Michael also organizes, curates, and promotes exhibitions. Michael is co-founder of the unique art organization Project BRASAS and the inter-disciplined artists' collective, CAOS (Coalition of Artists on the Shore), based in Cambridge, Maryland. Both organizations focus on alternative exhibitions done for and by artists.
Additionally, Michael operates an artists property management business. Michael is a Principal in Arts Enterprises LLC, a Washington D.C. company that offers a variety of real estate products and services to the arts community. As Managing Director, he is active in promoting and creating new opportunities for artists to acquire real estate and flourish in D.C.