A traditional and powerful singing of American shape note hymns, fuging tunes, and anthems
in unaccompanied four-part harmony from The Sacred Harp and The Shenandoah Harmony
Arlington, VA: Saturday, April 1, 2023, 10:00 am-3:30 pm
Registration begins at 9:30 am.
Potluck Dinner on the Grounds 12:30 pm. Social after the singing.
After cancellations of our traditional two-day Potomac River Conventions over the past three years (2020-22) because of the Covid-19 pandemic, the DC Shape Note Singers invite you to this one-day singing in an outdoor picnic shelter with an acoustically reverberant ceiling.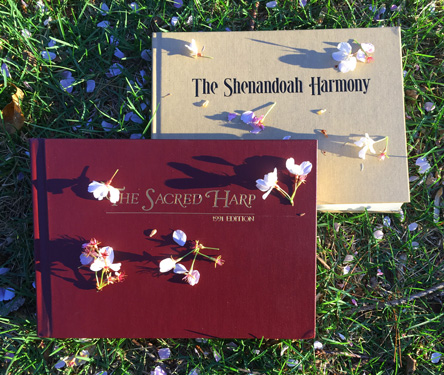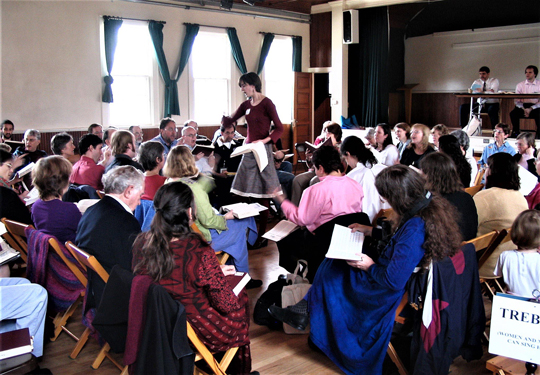 Photo at left (or above) by Steven Sabol. Photo on right (or below) by Rachel Speer of the 2007 convention at the Great Falls Grange.
Recommended park entrance at approximate GPS address of 1140 N. George Mason Dr. Plenty of street parking. The site has restrooms, children's playground, and public water fountain (50-yard walk on paved path). No electricity.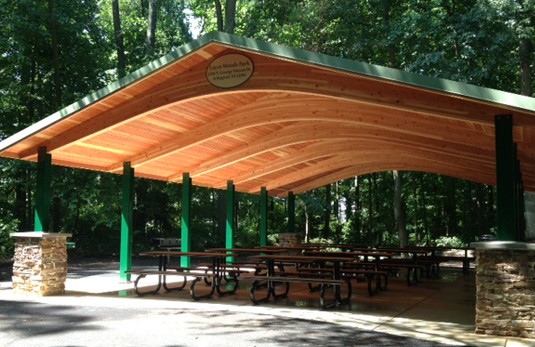 All are welcome: beginners, experienced singers, and listeners.
No admission charge -- free-will offering.
Same-day negative covid antigen test expected. Face masks are welcomed but optional.
Please bring a folding chair if you have one, and tunebooks if you have them.
Local singers, please bring a substantial meal to share at the pot-luck luncheon.

Copies of The Sacred Harp (1991 Edition, successor to the Denson Revision) and The Shenandoah Harmony (first published in 2013) will be available for loan and purchase.

2023 Singing co-chairs: Topher Lawton and Alexa Silverman. Contacts link below.
The Convention is announced on Facebook!

This page has been accessed 4444 times since January 28,2020.
---