Lily Chin (1873-1933)

Known as the first Chinese American child born in Colorado, Lily Chin (Chin Ling Sou) was born on December 3, 1873 in Black Hawk. Her father, Chin Lin Sou, worked first on the railroad and later leased mining claims. Chin Lin Sou brought his wife to Colorado from China more than ten years of separation. The family eventually moved to Denver where Chin became a prominent citizen and was known as the unofficial "Mayor of Chinatown."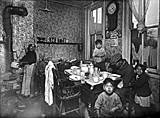 Chin's daughter Lily married Look Wing Yue, a Chinese merchant. The wedding ceremony, held in her father's home, was a major social event. It was covered by the local papers and attended by both the governor of Colorado and the mayor of Denver. Lily Chin had three children. She and her husband ran a profitable Chinese merchandise store in downtown Denver. Chin was known for her beauty, her intelligence, and her education.

After her father's death, she became known as the "Queen of Chinatown." A leading member of the Colorado Pioneer Society, she died in 1933.