Mary Rippon (1850-1935)

Mary Rippon was born on May 25, 1850 in northeastern Illinois. After high school, she studied in Germany and France. In 1878, Rippon began teaching at the University of Colorado (CU), soon after the school's founding. She taught German literature, becoming one of the nation's first women professors, one of the first woman to teach men in a university classroom, and the first woman to teach at CU. Rippon enjoyed a thirty-one year career and eventually became the head of the Department of Germanic Languages and Literature.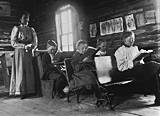 Rippon also had a private life that remained hidden until well after her death. Ten years into her teaching career, Mary secretly married a student and gave birth to a daughter, Miriam, in January 1889. The marriage lasted several years but the couple never lived together and kept their relationship hidden.

Rippon's teaching career was unusual in many ways, particularly because most women at that time did not teach at the university level. Most female teachers taught in public or private elementary schools but not in higher education. A majority of women quit working once they married and, in many cases, school contracts and policy prohibited married women from teaching. Had the university known of her marriage, it is likely that Mary Rippon would have lost her teaching position.