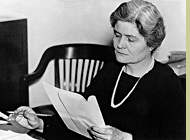 Josephine Aspenwall Roche (1886-1976)

Josephine Roche was born into a wealthy family from Neligh, Nebraska. As a Progressive Era woman, Roche sought to remedy the ills of industrialization by aiding the welfare of women, children and immigrants who labored in harsh working environments. Educated at Vassar and at Columbia University, Roche received a master's degree in social work. In her master's thesis, "Economic Conditions in Relation to the Delinquency of Girls," she argued that low wages for women could lead to prostitution as a means for survival.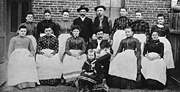 Labor politics and safe working conditions would become her lifelong interest. Upon graduation, she accepted a job as Denver's first policewoman and later served as a probation officer for juvenile offenders. In 1914, a coal miners' strike in southern Colorado escalated into violence, when National Guard troops killed several miners and their families. Roche counseled the survivors and testified before the U.S. Industrial Relations Commission. She inherited a minority share in the Rocky Mountain Fuel Company (RMF) upon her father's death which gave her the unique opportunity to influence company labor practices.

Eventually, she gained a controlling interest in the company, raised wages, and initiated unionization. When the Depression and increased business competition put the RMF's future in jeopardy, loyal miners loaned Roche nearly $450,000 dollars. Roche lost Colorado's gubernatorial primary in 1934 but was offered a cabinet post overseeing the U.S. Public Health Service under President Roosevelt.

Roche's dedicated life of activism and humanitarianism benefited thousands of laboring people by raising the standards for working conditions and employee compensation throughout America.