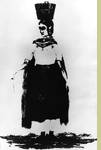 Teresita Sandoval (1811-1894)

Teresita Sandoval was born in Taos, New Mexico in 1811. At the age of seventeen she married Manuel Suaso. The couple had four children. Seven years later, in 1818, the family moved to Mora, New Mexico, to settle a land grant they received. Here, Sandoval met Mathew Kinkead, a naturalized Mexican citizen and a Kentucky native. She left her husband to live with Kinkead. The new couple moved to the Arkansas River where they formed a trading partnership with other naturalized Mexican citizens and founded El Pueblo, present day Pueblo, Colorado.

At El Pueblo, Sandoval met British trader Alexander Barkley, who eventually drew the only known portrait of Teresita. In 1844 Sandoval moved with Barkley to the Mexican side of the United States-Mexican border. After ten years with Barkley, at age forty-two, Sandoval left to live with a daughter and son-in-law. They supported her until her death in 1894, at age eighty-three.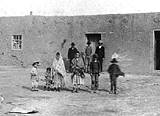 Teresita Sandoval lived during a time of great change in the Southwest. After the Mexican-American War ended in 1848, the United States took possession of the land south of the Arkansas River to the Rio Grande. Sandoval's homeland was now part of the United States, which ended Mexican laws and customs. Prior to 1848, under Mexican law, women could inherit and purchase land and livestock, share that ownership with their husbands, and establish their own businesses. Under Mexican law, women were even permitted to begin divorce proceedings. When these lands became American territory, after 1848, the new U.S. laws rescinded many of these rights, transforming the lives of women of the borderlands.