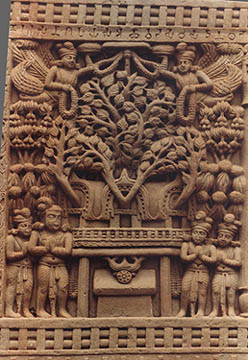 In August, 1997, we went to Bhopal, best known for the disaster there. It was a lovely city, though a bit on the mosquito-ridden side, between two lakes and spreading up the hills on either side of the isthmus between them, giving it the feel of a saddle-shaped valley in some ancient mountains.
While there, we made one side trip to Sanchi, an ancient Buddhist shrine about an hour away. I'd noticed Sanchi, on a small group of hills in the middle of a flat bit of plain, on the train down from Delhi a day or two before, but had thought the domes of the stupas might be some hotel or perhaps an observatory.
Here, you see some detail on an entrance to the main stupa in Sanchi, which once housed relics of the Buddha himself. The site was richly carved and very peaceful.